CELEBRATION PACKAGE
Classic Laser Tag & Arcade Package
6 or more guests
Additional guests can be added on at $25pp
Optional add ons: Knockerball $99 or Nerf Wars $49
ULTIMATE PACKAGE
Classic Laser Tag / Arcade Package
12 or more guests
Additional guests can be added on at $25pp
Optional add ons: Knockerball $99 or Nerf Wars $49
COMBAT ACTION TAG TACTICAL LASER TAG
Tactical Combat Laser Tag / Arcade Package
6 or more guests
Recommended ages - 11 years and older
Additional guests can be added on at $25pp
Optional add ons: Knockerball $99 or Nerf Wars $49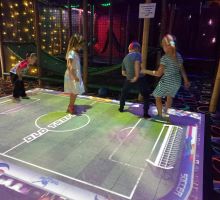 READY TO BOOK? Availability and reservations are available online with just a $60 deposit. The balance is due the day of your party. Please reserve the number of players closest to your count and update us once you get your rsvp's back. Party Rooms: Rooms are reserved based on your party size. Rooms can accommodate 15 -25 guests. If you're planning a larger party (over 20 guests) please call or email so we can assist with your reservation as we may need to reserve an additional room for you. Rooms all have streamers and birthday signs. You're welcome to bring in balloons or table decor but please do not tape anything to the walls. No confetti or pinatas are allowed.

FOOD/CAKE/DRINKS: Chasers does not serve food or drinks. You're welcome to order food or bring something in from home. Please keep in mind, kids are only in the room a short time so something quick like pizza or hot dogs are great. We have plates & napkins but please bring anything else you may need for serving food. We have bottled water and soda for sale but you're welcome to bring in drinks if you'd like. We do not have cups or ice. We also do not have a freezer but you're welcome to use our refrigerator if needed.

PARTY SCHEDULE: (typical schedule but may change on-site) Please arrive no more than 10 minutes prior to your party start time. Typically Laser Tag will start 15 minutes after your reservation time to allow all your guests time to arrive and say hello. Guests are welcome to play in the free arcade and/or jungle gym while waiting for laser tag to start. Your party host will run 3 games of laser tag (solo match, team matches etc) Your party host will then assist the group with our battle bots game where players fight for 1st place. Usually after this guests are directed back to the party room, this is a great time for a break and sing happy birthday etc. If having food delivered usually 1 hour into your party time is a good time to take a quick break. The last 30 minutes of party time can be spent in the arcade/jungle gym or if you've added Knockerball or Nerf onto your party then we'll head out to the Turf field. Players / Guests - Anyone playing laser tag, arcade, Knockerball etc. will need to have a wristband and should be included in your player count.