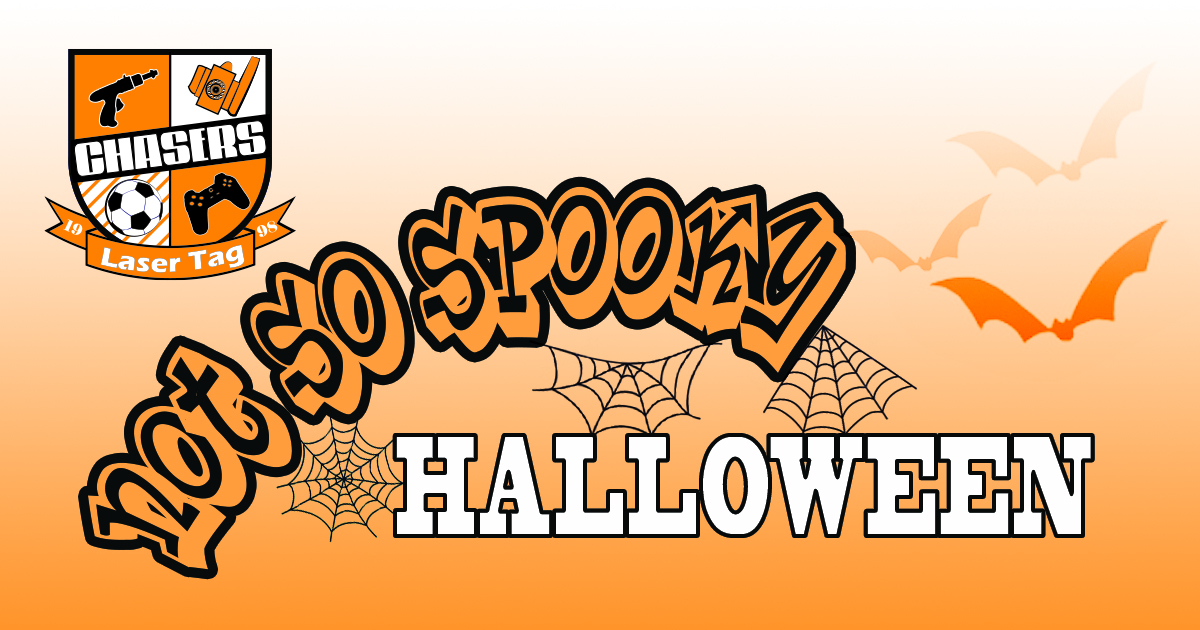 Product Title
OCT. 6th WAX HANDS & AIRBRUSH TATTOOS
OCT. 13 WAX HANDS & AIRBRUSH TATTOOS, NOT SO SPOOKY HAUNTED HOUSE
OCT. 20 AIRBRUSH TATTOOS, & NOT SO SPOOKY HAUNTED HOUSE
LASER TAG, JUNGLE GYM, VIDEO GAMES INCLUDED.
8:30PM-9:30PM
$29 ONLINE OR $35 AT THE DOOR PER PARTICIPATING GUEST
*GIFT CERTIFICATES, LASER LOOT, COMBAT CASH ARE NOT ACCEPTED FOR THIS EVENT.
Book now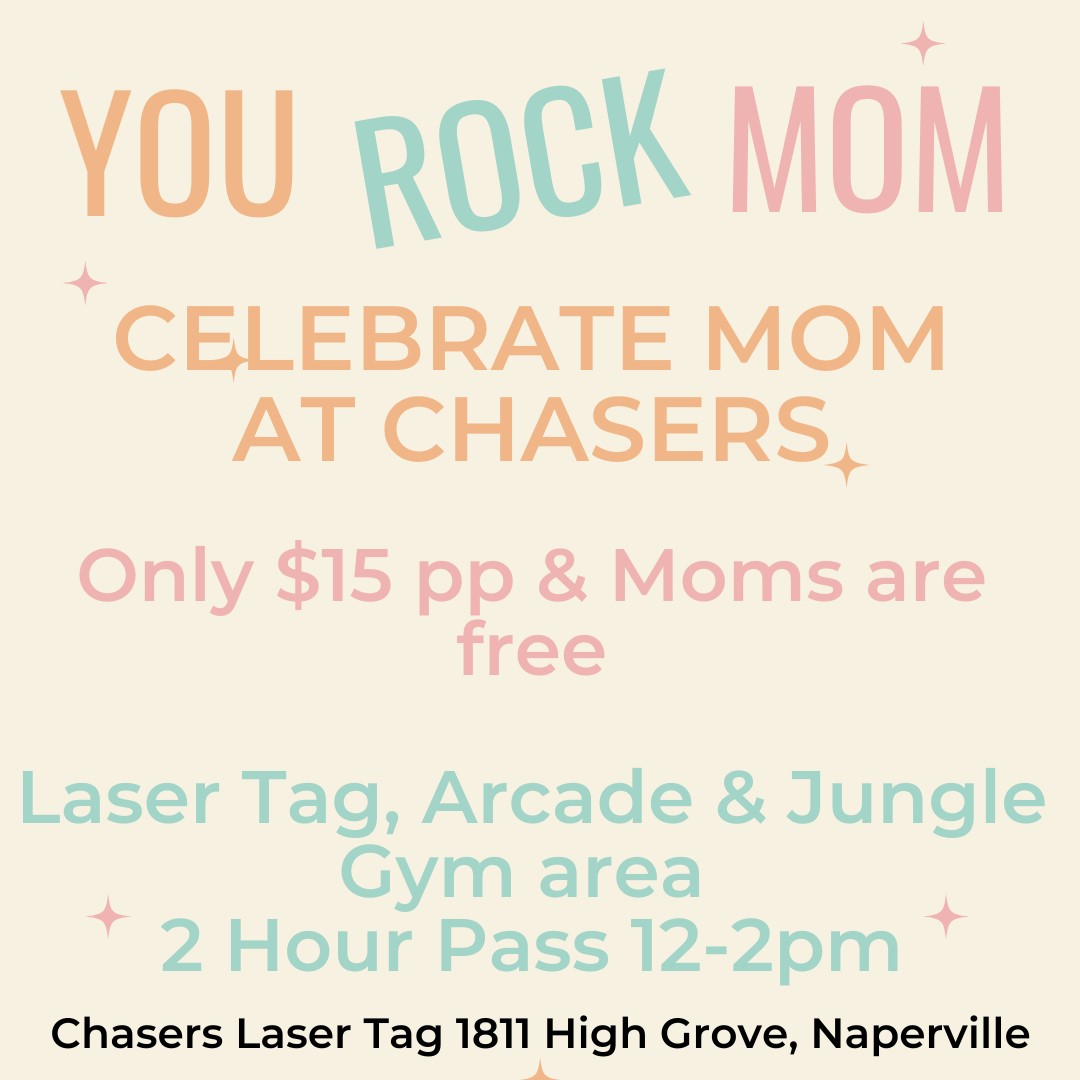 SUNDAY, MAY 14, 2023 12-2PM
Celebrate Mom wtih some family fun! Only $15pp and Moms are free!
no reservation needed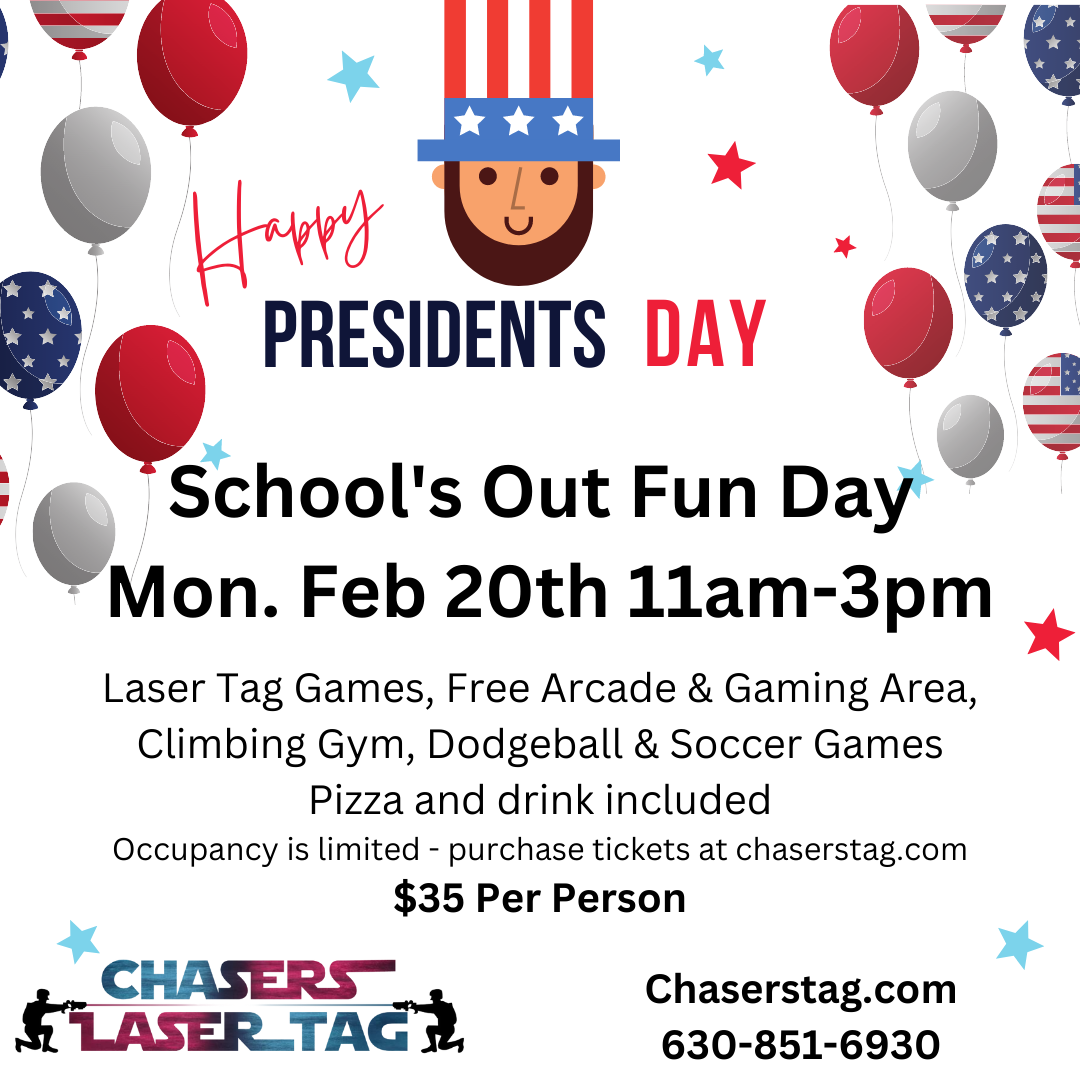 PRESIDENT'S DAY MONDAY, FEBRUARY 20, 2023
Gather a few friends and enjoy a day of fun at Chasers! Special hours 11am-3pm, Only $35 - Stop in for unlimited games, laser tag, dodgeball and soccer. Pizza and drinks served at 12:30pm
BOOK NOW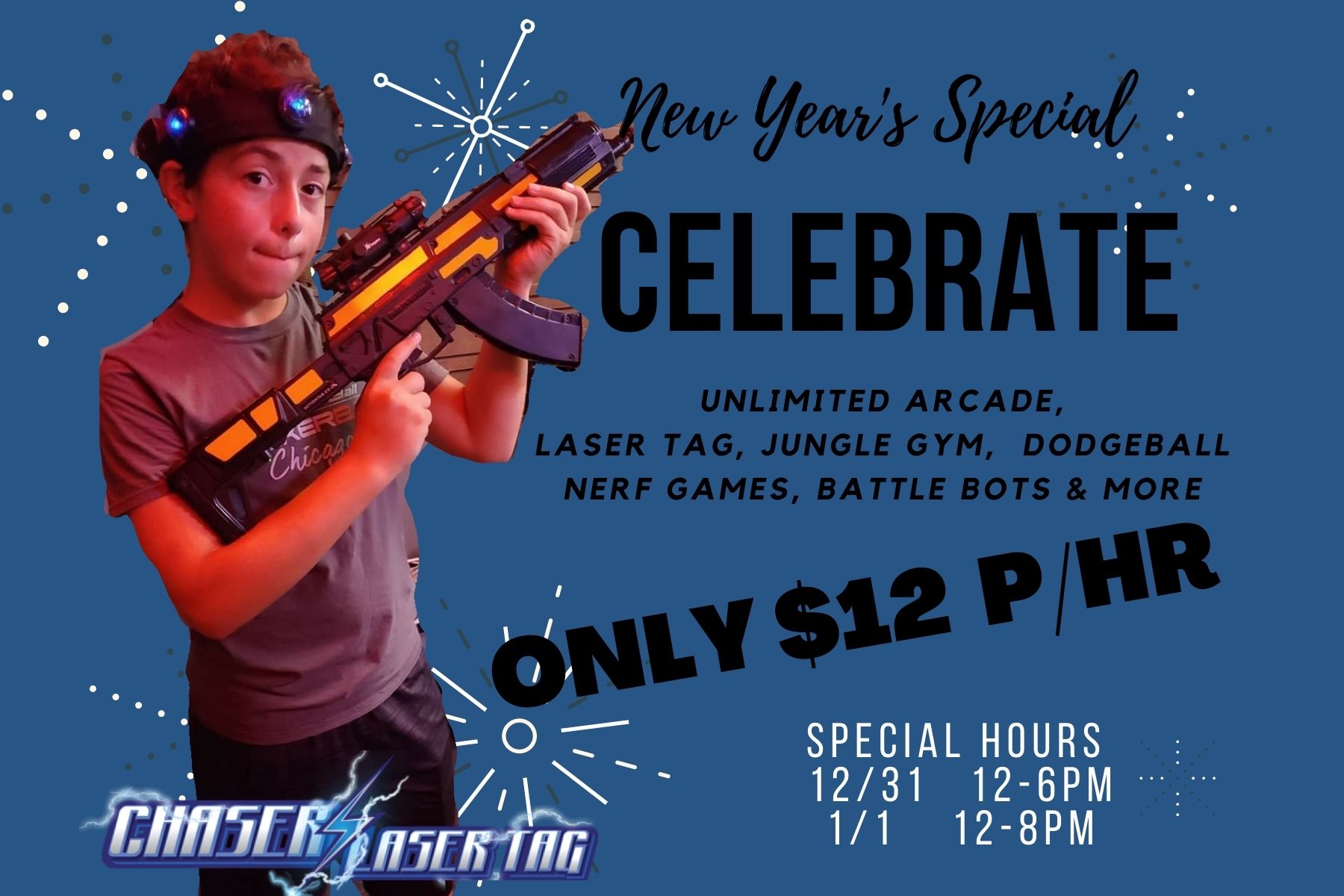 NEW YEAR'S EVE AND NEW YEAR'S DAY 2022
Bring the family or drop off the kids for some laser tag and gaming fun. New Years Eve we'll be open 12-6pm and New Years Day we'll be open 12-8pm. Only $12 per hour
PURCHASE TICKETS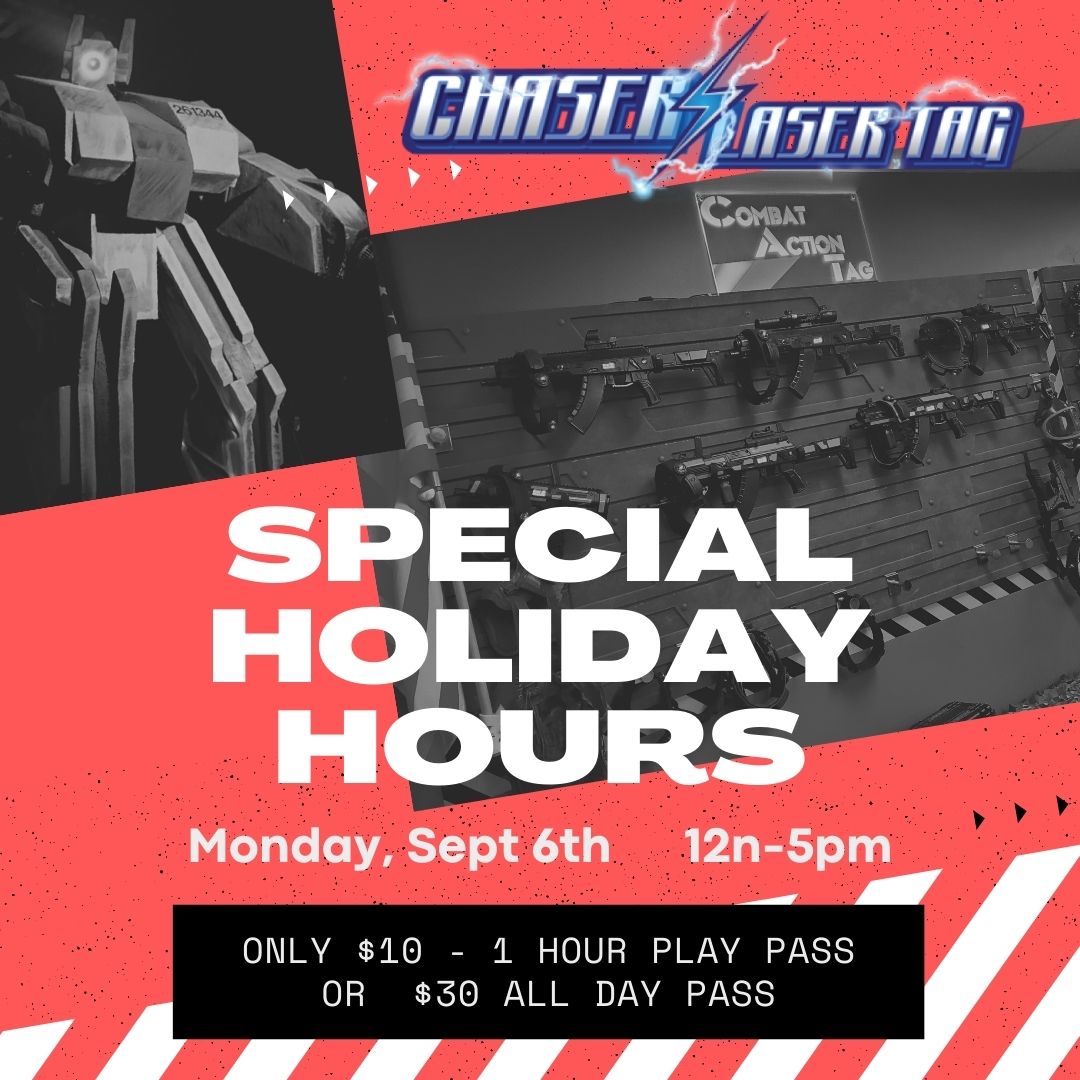 SPECIAL HOURS - LABOR DAY 9/6/21
Drop the kids off or stay and play too! Only $10 per hour or $29 for ALL Day.

Unlimited Laser Tag, Arcade, Jungle Gym, Dodgeball, Soccer and Nerf Wars!

Limited availability!
Purchase tickets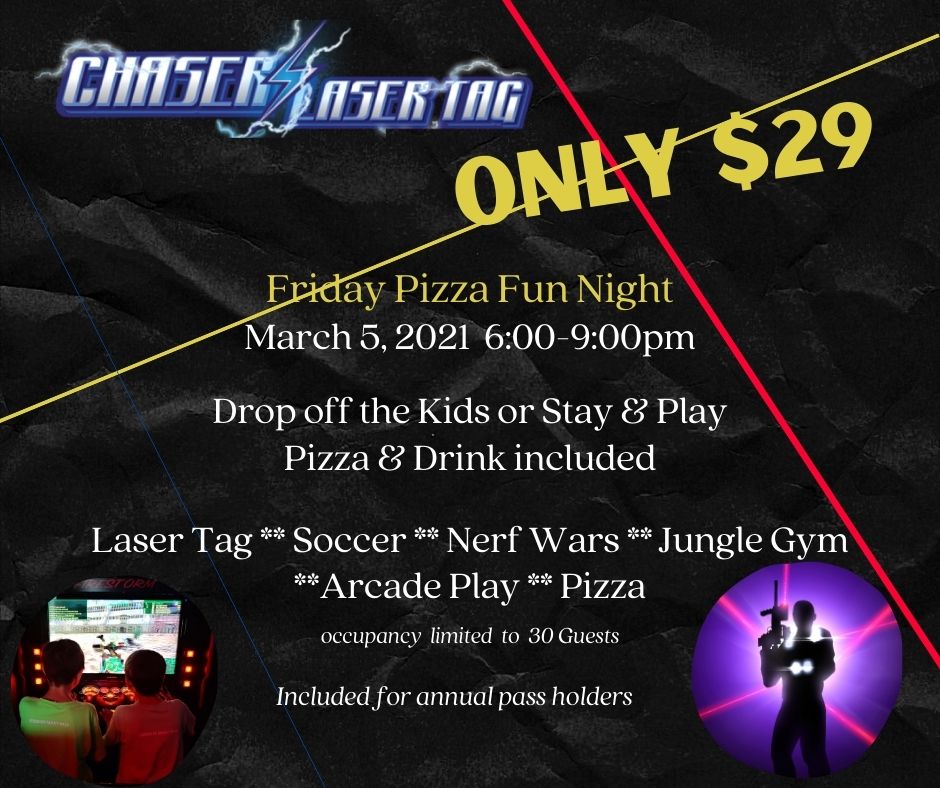 FRIDAY PIZZA FUN NIGHT 3/5/21
Join us for a Friday night of laser tag, arcade, nerf wars , pizza and more!

Occupancy will be limited to 35 guests

Groups of 5 or more - call for special pricing
Annual pass holders get in for FREE
Purchase
CHASERS 2021 SPECIAL EVENTS
Friday Fun Nights are a blast! Parents can stay and play or drop the kids off and enjoy a few hours of quiet. If you have a local fundraiser you would like to promote Friday Fun Nights at Chasers are an easy way to raise funds. Call us to get more info.

If you're an annual pass holder these events are included in your membership.

Dates are subject to change so be sure to follow us on facebook/instagram for details.
Purchase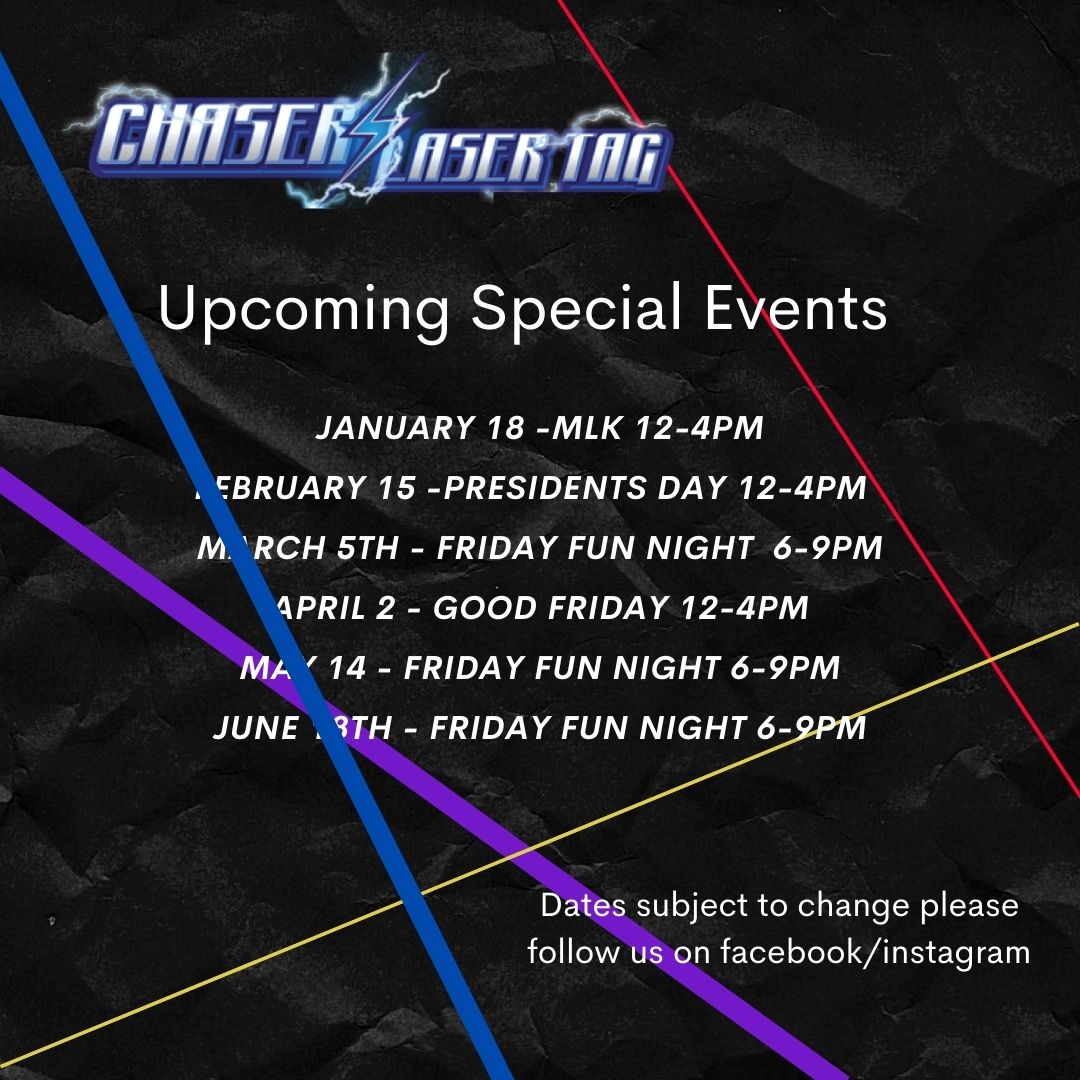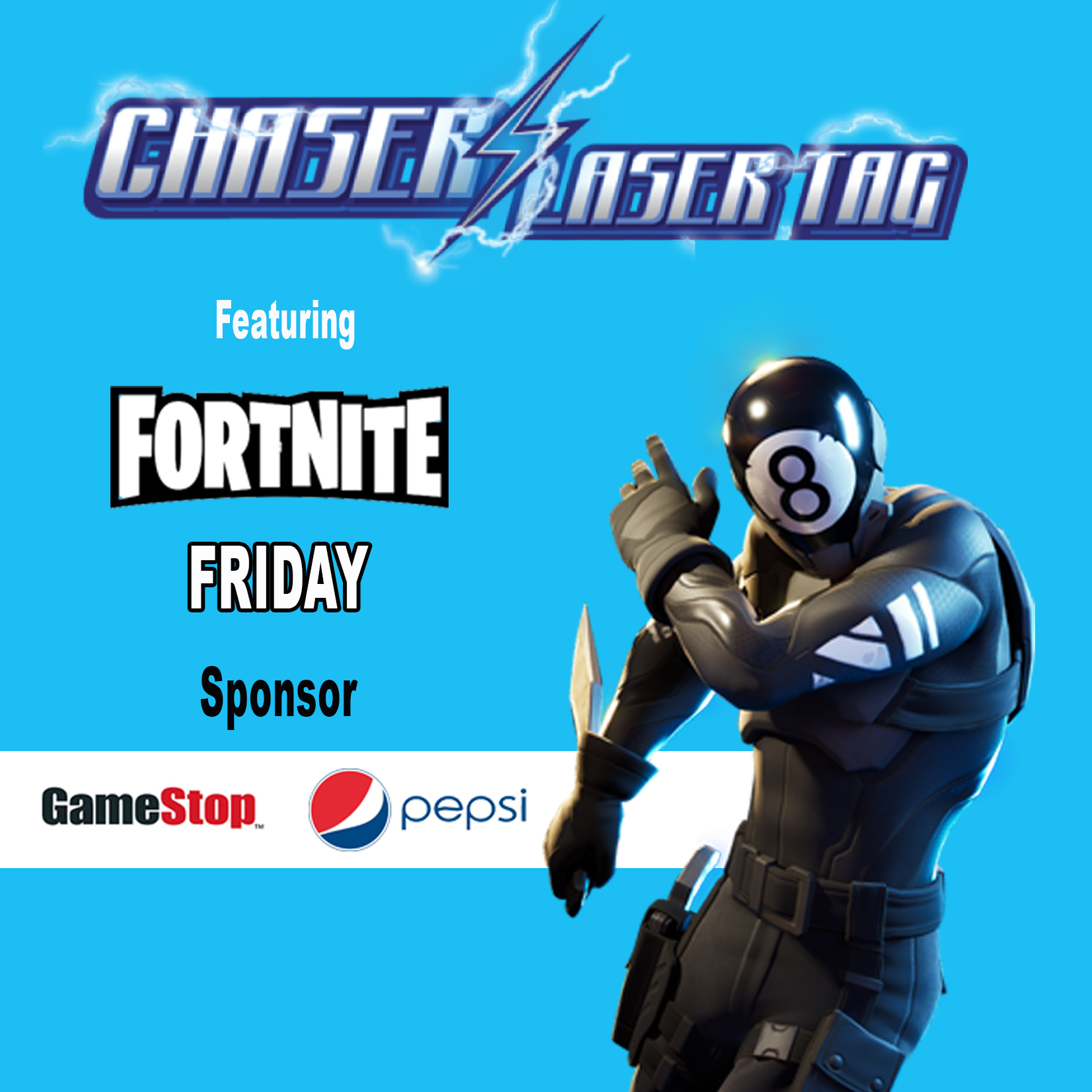 FORTNITE FRIDAY TOURNAMENT
Chasers is thrilled to host FORTNITE FRIDAY - April 3, 2020

> FORTNITE TOURNAMENT
> Nerf Battle Royale
> Prizes
> Three hours of Fun
> Pizza & Drink Included
> First Friday of Each Month

Sponsored by Game Stop & Pepsi
RESERVE YOUR SPOT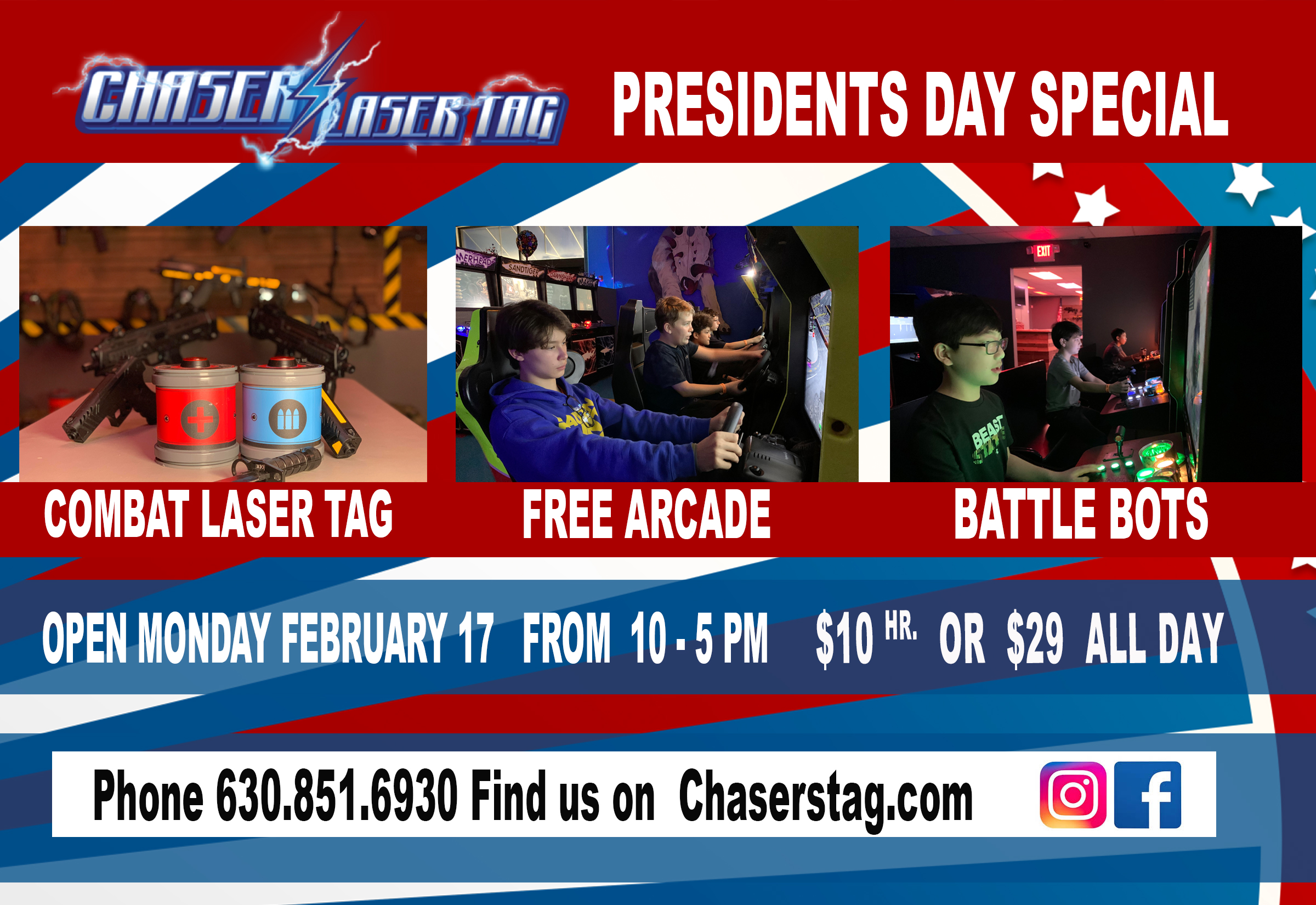 PRESIDENTS DAY - Feb 17, 2020
SCHOOL IS OUT SO WE'RE OPEN
$29 All Day Pass or $10 per hour

Special Holiday Hours - 10am - 5pm
Drop the kids off or stay and play with them!
Reserve
VALENTINE'S DAY SPECIAL
Stay and play or drop off the kids and enjoy a few hours celebrating Valentine's Day.
PURCHASE HERE